Looking for better bucks in a booming market?
If you've got an investment property or two under your belt, it's a good question to be asking. You're probably considering the possibility of charging more, as are many landlords who dropped their rents to cater for lockdown-impacted tenants in recent months.
But without an accurate asking price, the real risk is losing a great tenant and having your property sit vacant altogether.
On the other hand, landlords who aren't re-evaluating how much rent they're charging could be leaving thousands of dollars on the table by not charging enough, and undercutting their rental income substantially.
While setting the right rent may seem like a bit of simple guesswork, the wrong decision can have you paying the ultimate price in the end. There are pitfalls to avoid, which is where having an experienced property manager and professional rental appraisal is lucrative.
Profitable investing is the result of staying up to the market price – and regularly at that. At Prudential Real Estate we do this for our landlords as often as every periodic inspection, where we provide a free rental assessment and recommendations through a comparison of other similar rentals in the area.
Without a credible agent, knowledge of current market demand or access to databases that aren't publicly available, it's easy to put your investment strategy on the backburner… or go without one altogether.
If it's time to reassess your rental price, check in with your property manager – or contact our team at your local Prudential Real Estate office below for reliable, local expertise.
---
Prudential Real Estate Campbelltown | (02) 4628 0033 | campbelltown@prudential.com.au
Prudential Real Estate Liverpool | (02) 9822 5999 | liverpool@prudential.com.au
Prudential Real Estate Macquarie Fields | (02) 9605 5333 | macquariefields@prudential.com.au
Prudential Real Estate Narellan | (02) 4624 4400 | narellan@prudential.com.au
---
How much rent should you be charging?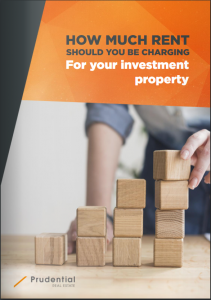 Get our FREE E-Book right here!
Simply fill out your email address and we'll instantly send you a copy to keep.