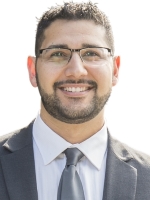 No two words describe Awad better than "career professional".
From the moment Awad started with Prudential Real Estate in 2005, it was clear he was destined to be a great real estate agent.
Originally employed as a cadet after completing his HSC studies at Leumeah High School, Awad completed his Diploma of Property (Real Estate), which he undertook part-time whilst working full-time at Prudential Real Estate, going on to obtain his full NSW Real Estate Agent's licence. In 2013, after eight years in the Campbelltown office, Awad became a valuable member of the Prudential Real Estate team in Liverpool, where he is now the team leader for the property management department.
In addition, Awad applied for and was granted the privilege of becoming a Justice of the Peace – a rare honour these days!
But it takes more than a great education and a license to become a true real estate professional. And Awad has everything it takes – a wonderful customer service attitude, a winning smile and a "no worries" approach to every obstacle.
Awad is available to discuss your property needs at any time. Call him today – he would love to hear from you.