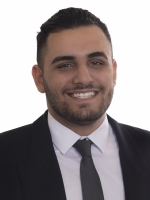 Ever since completing work experience in a real estate agency in year 10, Ryan has been interested in pursuing a career in the industry. After finishing his HSC, he started working in real estate full time, completed his Certificate of Registration and is now studying property at university.
Outgoing and confident, Ryan joined the Campbelltown team in late 2017 as Property Management Associate, a role that sees him working with the leasing team, preparing residential tenancy agreements, carrying out open house inspections and processing applications as well as assisting with property management duties.
Since then, Ryan has now joined the sales team as a Sales Associate. He has loved helping his clients get to the next chapter in their lives as stress free as possible. He is passionate and driven about achieving the best result possible for his clients with high communication.
Ryan grew up in the Bankstown/Yagoona area and is eager to get to know the Macarthur region. He is extremely passionate about what he does and enjoys working at Prudential Real Estate because of the positive environment with great people. He likes that the office procedures are very organised and has been made to feel welcome and motivated from day one.
In his spare time, Ryan enjoys football (soccer), watching TV shows and spending time with family and friends.